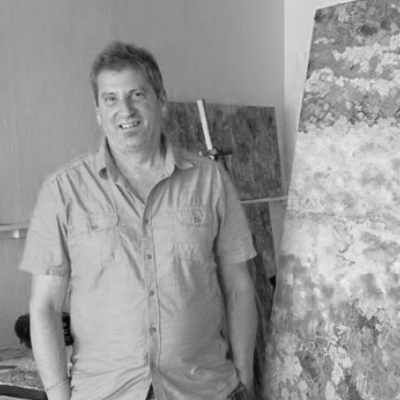 Jeff Ferst is a Tucson artist who paints contemporary landscape paintings of vibrant colors and heavy impasto paint as well as abstraction paintings. He is a colorist. His artwork/paintings have been called joyful, juicy, and life affirming. And they are energetic and celebratory, tactile and visual, grounded in reality and musical in feeling. Jeff's inspiration comes from the desert and amazing sunsets.
Recently his art work was singled out by the US State Department for its "musicality" in lightening up the residence of the US Ambassador to Dushanbe's residence "in a truly unexpected way". The ambassador called his painting "Fantasia" "The flagship piece of the exhibit." This is quite a statement when you consider the exhibit includes works by artists such as Johns, Rauschenberg and Indiana. In 2014 the curator for the US State Department contacted Jeff about providing an additional painting for the US Embassy in Windhoek, Namibia.
Jeff is a member of The Association of Interior Designers, National Oil Painters Association, Canadian Artists Federation (CARFAC) and Society of Canadian Artists.