Vutec Projector Screen Perfection
"For the Savvy Home Theatre Guru in Mind"
Founded in 1977, Vutec™ is based in Coral Springs, FL, USA. American manufacturer of custom-made Projector Screens, Artscreens and Projector Lifts. 
Quality and viewing perfection is what we strive to achieve with each Projector Screen we manufacturer and send to customers across the USA and around the world. 
Vutec's numerous patents of viewing products include the revolutionary SilverStar™, Vision-X™, ArtScreen™ Systems and other masking systems. Our Projector Screens are custom-built in our factory and offer an unequaled craftsmanship with countless hours spent on engineering, market research, and design to make your home theater a class of it's own.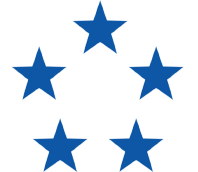 Leader and manufacturer of hi-performance award-winning projector screens. Motorized Projector screens, Wall Mounted Projector Screens, in Ceiling Projector Screens, Projector Lifts and more.

Four decades of industry experience services our global network of authorized dealers, distributors, and end users in over 87+ countries.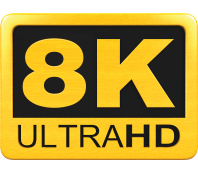 We pride ourselves in creating Projector Screens that provide the utmost in Ultra HD viewing capabilities.

Vutec proudly hand-crafts and custom makes every Projector Screen in the USA.  We guarantee the quality of our screens and have the quickest turnaround in the industry.
Vutec™ offer a vast range of Projector Screens for the latest and older projectors. 
Each Projector Screen offered in our line has the best screen fabric available and is engineered for all types of locations and viewing preferences.  
Motorized Projector Screens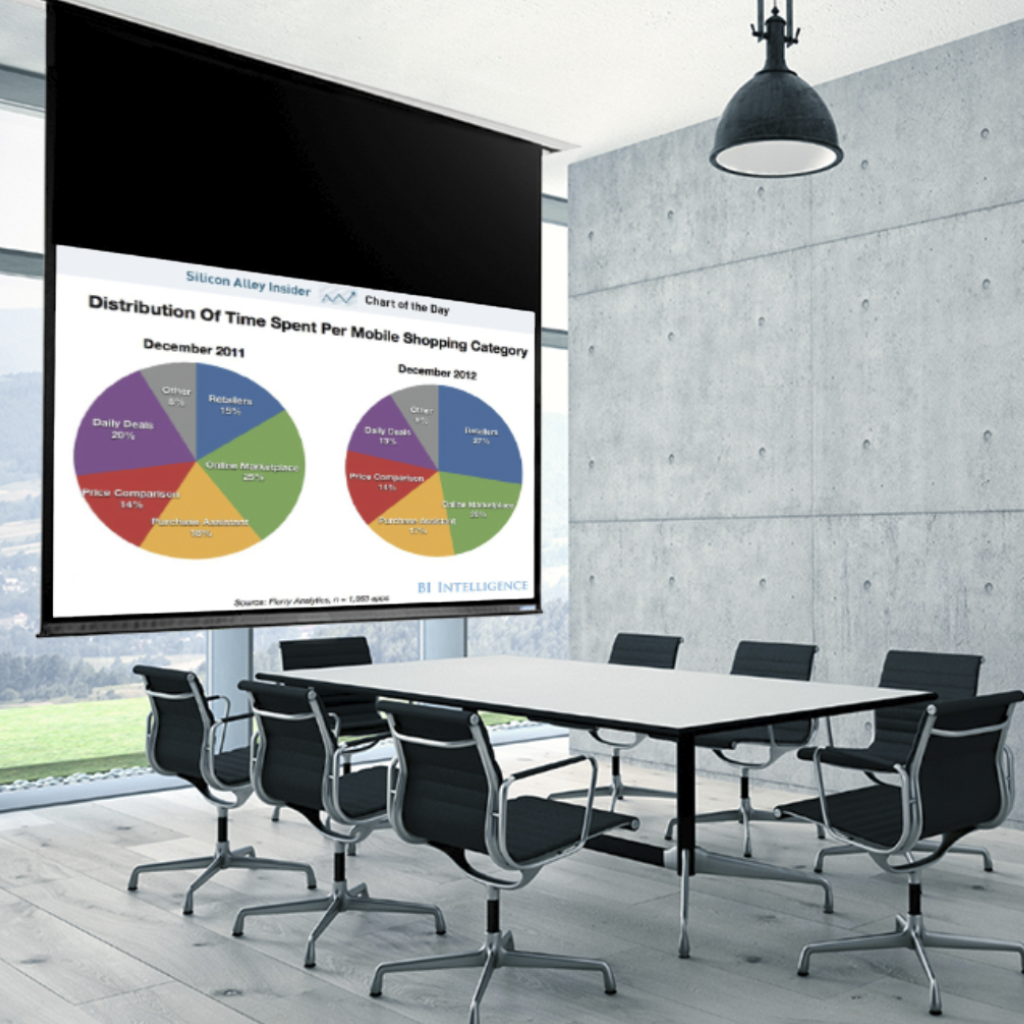 The Motorized or Electric Projector Screens range includesover 25 different models to chose from and over 13 different surface choices and screen sizes up to 283″ Diagonal.
Motorized Projector Screens can be concealed in the ceiling, wall or ceiling mounted.
One of the most popular screens surface choices is the Soundscreen.  This unique surface allows for sound behind the screen to come through the screen with picture perfect images.
This is great for when you want to change from using the TV,  simply drop down your Projector Screen from the ceiling and turn up the volume, sit back and enjoy another level of home theater, right in your own home.
Vutec's Motorized Projector Screens have won countless awards for innovation, quality and performance.
The Fixed or Wall Mounted Projector Screens range includes over 7 different models to chose from and over 13 different surface choices and screen sizes up to 200″ Diagonal.
Fixed Projector Screens are mounted onto a dedicated wall.  Frame options vary as well, from the ultra thin to a thicker frame covered in velvet to prevent image over run.
All Projector Screen surfaces offer excellent viewing and depending on the room and light, there is a surface to enhance any image. 
Some fixed frames also come with tubular T frame stands, making this a very versatile option for putting the screen in other rooms of the house, easily.
Vutec's Fixed Projector Screens have won countless awards for innovation, quality and performance.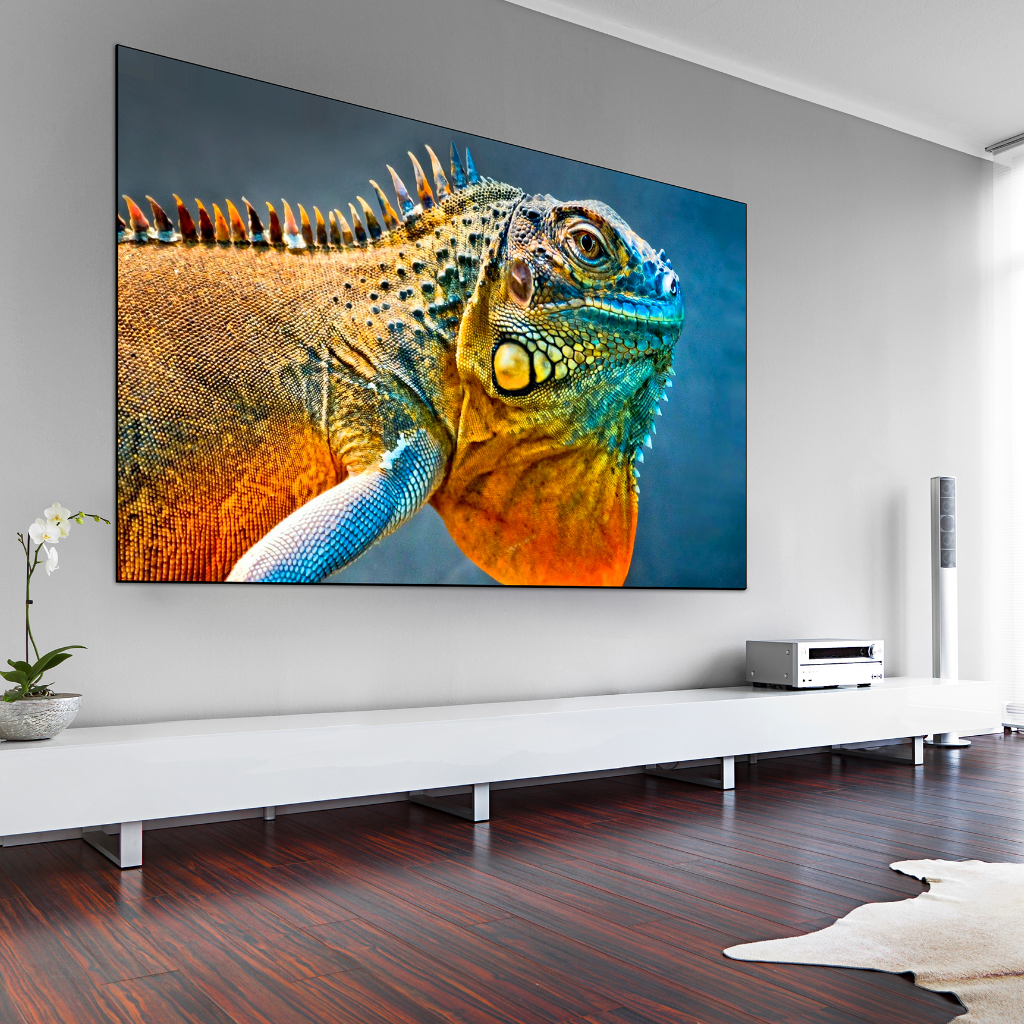 Portable Projector Screens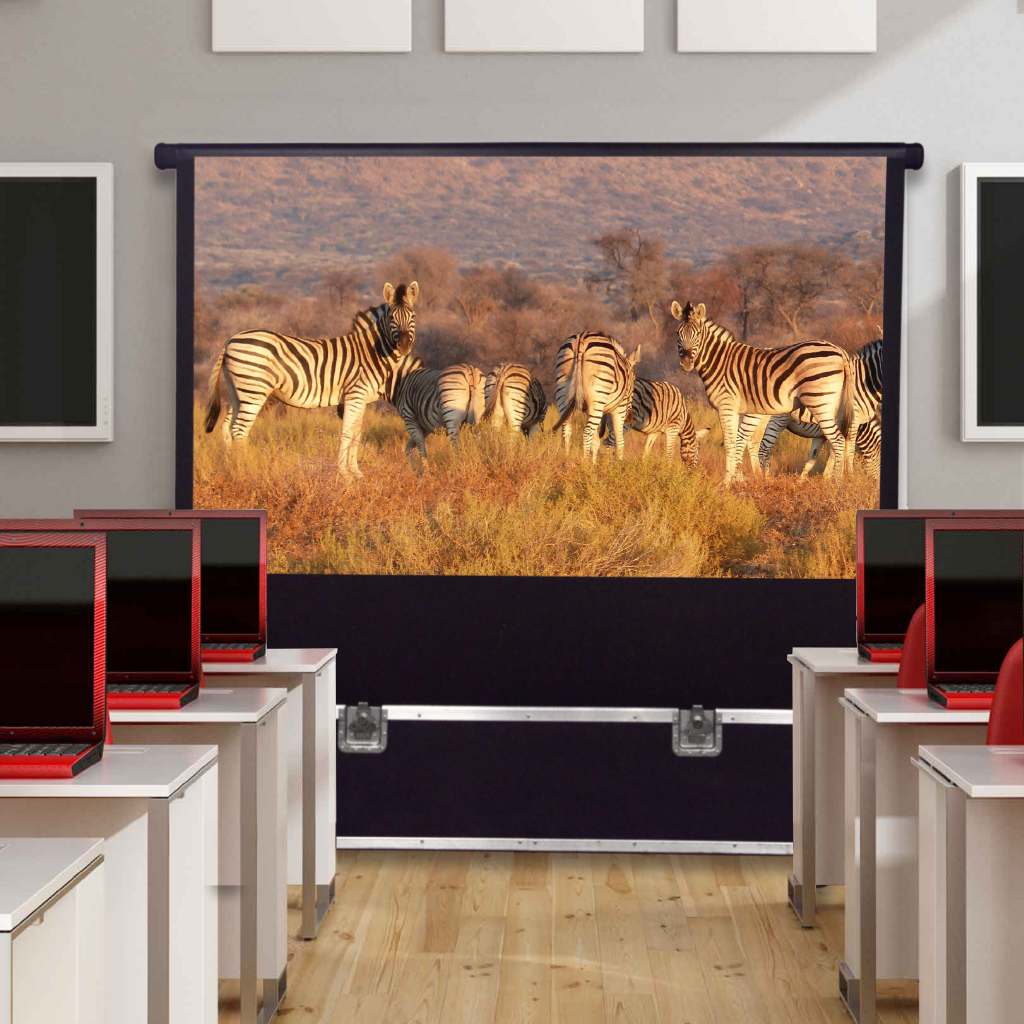 The Portable Projector Screen range is the Retracta-Vu Pro Traveller, and comes with a custom made built tough case on wheels.    The largest screen size is up to 288″ Diagonal.
Heavy duty motorized arms raise and lower the screen effortlessly.  The performance of these screens on the go, is outstanding and offers endless options.
The screen surface for the portable motorized Projector Screen, offers picture sharpness and versatility for a variety of locations. 
The screen raises with an inbuilt switch and set up is done in a matter of minutes.
Masking Projector Screens - Home Theater Performance & Perfection
Looking for more than just a Projector Screen, looking for full control on how the image is viewed on the big screen?  The you are looking for Masking Screens.  
A Masking Projector Screen allows you to control the ratio for a sharper video image.  
Masking screens allow you to change the format from a 4:3, 126:9, 16:10, 2.35:1 or 2.40:1 wide screen, through controls or your home automation system.  The largest diagonal size is 189″.
The Vision X Award Winning Line of Masking Projector Screens.  The Vision X product line is the best of the best.  Masking screens are available fixed on the wall or motorized into the ceiling or wall mounted.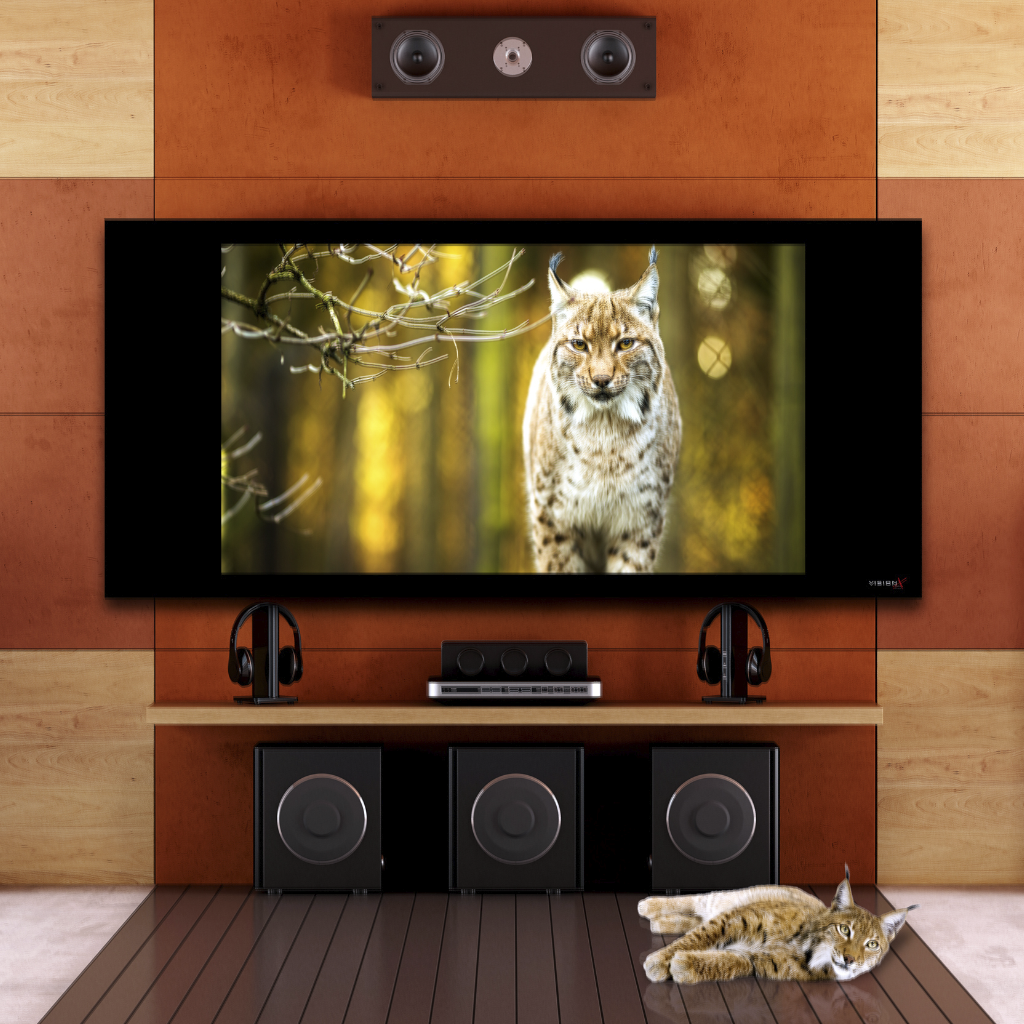 Curved Projector Screens - Home Theater Performance & Perfection
Big TV's and Projector Screens are great, but they should not be the only focal point when not in use.  Cover the screens, or conceal them with Artscreen for TV's and Theaterart for TV's.
Use your own art or select from hundreds of art images that are updated regularly.  Select a frame that suits your style and the room.  American made Artscreen systems use USA wood frames and the canvas is a glicee print that lasts for 99 years. 
Easily change out the art with another image when ever you redecorate or for any event or season.
Artscreen and Theatart will work with your home automation system or with a remote control.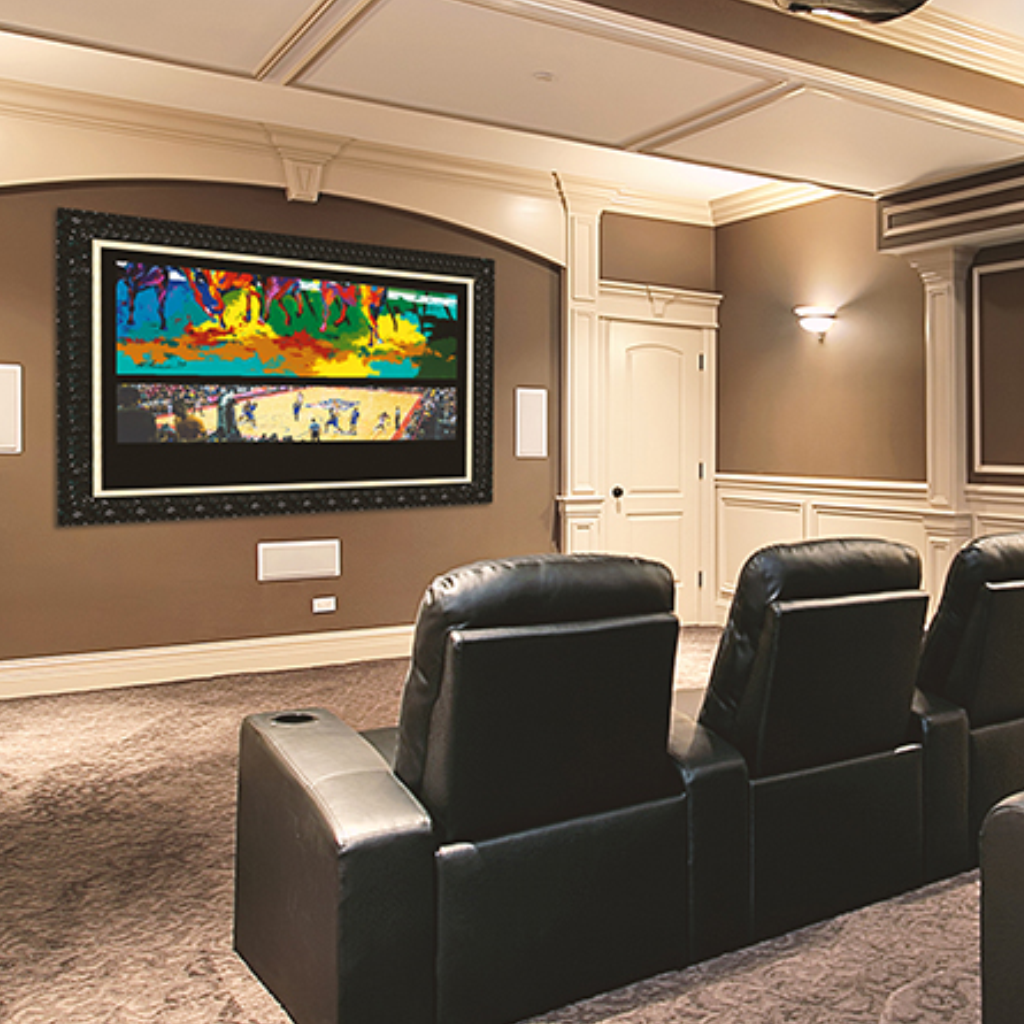 Vutec™ is proud to be in partnership with industry associations –  ISF,  CEDIA, CEA, and InfoComm.