Retracta Ceiling Projector Lift
Motorized Ceiling Projector Lift
Vutec's Retracta Ceiling Projector Lift series is designed for both commercial and home theater environments. Hidden, dust-free storage, and smooth, quiet motor operation. Designed for total concealment of projector. Manual wall switch control included. Space for cable management and projector mounting bracket must be considered when ordering. 1 Year Warranty.
LIFT TYPE:  In-Ceiling Mounting
SIZES:  Available in 5 Sizes for most projectors
CUSTOM SIZES:  Yes
ACCOMMODATES:  LCD & DLP Projectors up to 300 lbs.
CONSTRUCTION:  Heavy Duty Steel Construction w/ articulating panel smooth, quiet operation.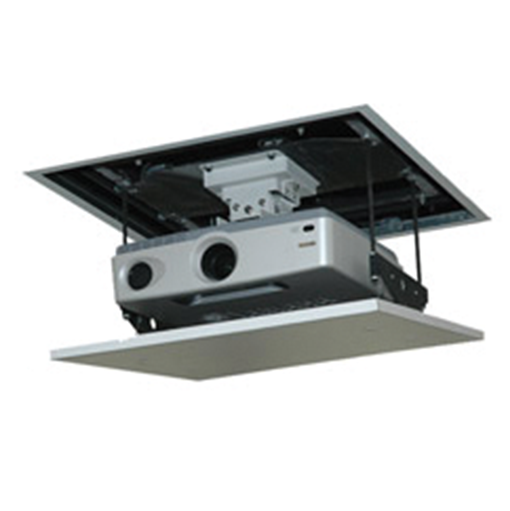 Retracta-Vu Traveller Projector Lift
Motorized Transportable Rising Projector Lift on Wheels
Retracta-Vu Traveller™ Projector Lift is an all in one solution, designed for the rental & staging market, providing instant installation with no assembly required. Simply roll into place, connect to a power outlet, and deploy up to 10′. It is a self contained scissor lift system that will raise the projector to the desired height. The quiet electric lift and tilt system will align the projector to the projection screen. It safeguards the projector and lift within case during transport and the case provides dust free protected storage. 1 Year Warranty.
LIFT TYPE:  Transportable Projector Lift
HEIGHT:  Deploy 84″ or 120″ high
INCLUDES:  Projector Angle Adjustment
LIFTING CAPACITY:  200 – 600 lbs.
CONSTRUCTION:  Heavy Duty Steel Construction w/ Interlock Outriggers
SIZES:  84″ or 120″