Thinnest "Floating" Edge Fixed Wall Screen
Our Stiletto Projector Screen which provides the thinnest visible bezel/frame available in the market today is designed to resemble a premium 8K LED TV but with much larger viewing area options. 
The Stiletto "Floating" Edge Frame uses a premium and sturdy extruded aluminum frame with 1/16" edge border that offers maximized viewing, making this an excellent addition to both home theater and commercial applications. Watch as your viewing experience soars to new heights of enjoyment!


SCREEN TYPE:  Fixed
VIEWING AREA:  Wide
FINISHED FRAME:  Extruded 1/16" Aluminum Edge
ISF CERTIFIED:  Yes
CUSTOM SIZES:  Yes
CUSTOM FORMATS:  Yes
SHIPPING:  Boxed
Learn More About The Stiletto Fixed Projector Screen
The Stiletto "Floating"  Fixed Projector Screen | Ultra-thin frame high-performance projector screen
Featuring a selection of two high-performance screen surfaces

.
BriteWhite Opaque: Brite White Opaque features an enhanced white finish that adds reflective brightness. 1.3 Gain
GreyDove: A light grey screen that works well for depth and clarity.  0.95 Gain
BriteWhite Microperf: A unique white fabric that offers a bright, uniform image with no color shift at any viewing angle.  1.3 Gain
GreyDove MicroPerf: Acoustically transparent (for sound bars) grey surface with maximum sound transmission for all HD 1080p, 4K and 8K projection technologies. 0.6 Gain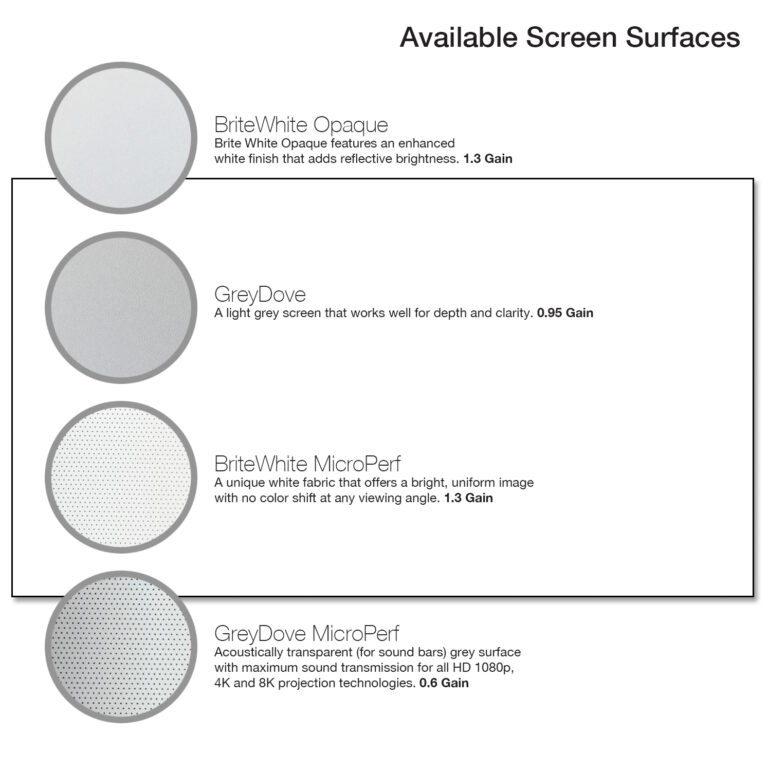 Projected Image & Frame Features
The Stiletto Fixed the thinnest Floating Edge is made for front projectors projecting on the screen, and has a great wide image view. 
The image on the Stiletto is clean and clear and will show images in 4K, 8K Ultra HD or higher, depending on the projector's ability.
The Stiletto is easy to install and features a very thin 1/16″ Frame Edge, for a near-invisible frame.
This is a permanently tensioned, easy-to-use projector wall screen.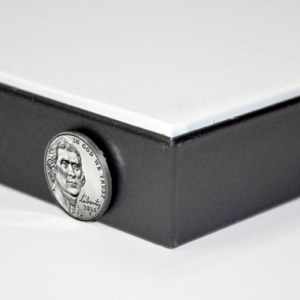 Screen sizes and Aspect Ratios
Available in a range of sizes from
92″ up to 159″ in a 16:9 format

94″ up to 163″ in 16:10 format.

115″ up to 153″ in 2.35:1 format
If you are looking for a 4:3 format, send us an email to request details.
Screen Options
Wall-mounted or order the adjustable Tubular "T" Frame Stands for portability.
Great Screen For
The Stiletto Fixed Frame Wall Projector Screen is ideal for Home Theatres, Family Rooms, Entertainment and Games Rooms as well as Conference Rooms, Training Rooms, Sporting Events and more.