Retractable In-Ceiling Flush Mounted Screen with Motorized Trap Door and Tab-Tensioned Screen
Lectric 4X is our finest in-ceiling projector screen, featuring a motorized trap door for dust-free storage with a touch of a button.  Whether concealing a screen for a multi-purpose facility or simply for aesthetics, the Lectric 4X is engineered with a unique mounting solution above the ceiling line.
Lectric 4X features an FRS™ (Fabric Relief Step) Ribbed aluminium 3″ roller. Acoustally dampening DDR™ (Dual Dampened Roller) Plenum rated flush mount installation suitable for air handling spaces. Heavy duty aluminum housing with a choice of black or white finishes.  Built in ceiling flange.
*Available in 4:3, 16:9, 16:10 & 2.35:1 formats.  Low voltage relays. Additional leader is available.  Requires hard-wired installation.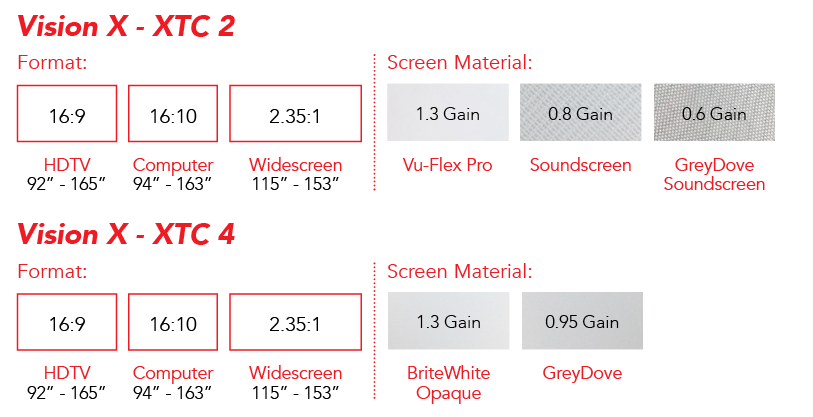 SCREEN TYPE:  Ceiling Mounted
HOUSING: Heavy Duty Plenum rated flush, Aluminum Black, White or Custom color finish
ROLLER: Ribbed Aluminum Roller w/ Vutec's Fabric Relief Step
TRAP DOOR:  Motorized for dust free surface storage
FEATURE:  Acoustical  Dual Dampened Roller
LEADER:  12″ Black Leader w/ Additional Leader Available
SHIPPING:  In a Crate
Featuring two high-performance screen surfaces

.
BriteWhite Opaque: Features an enhanced white finish that adds reflective brightness.  1.3 Gain
GreyDove: A light grey screen that works well for depth, clarity and enhanced colors.  0.95 Gain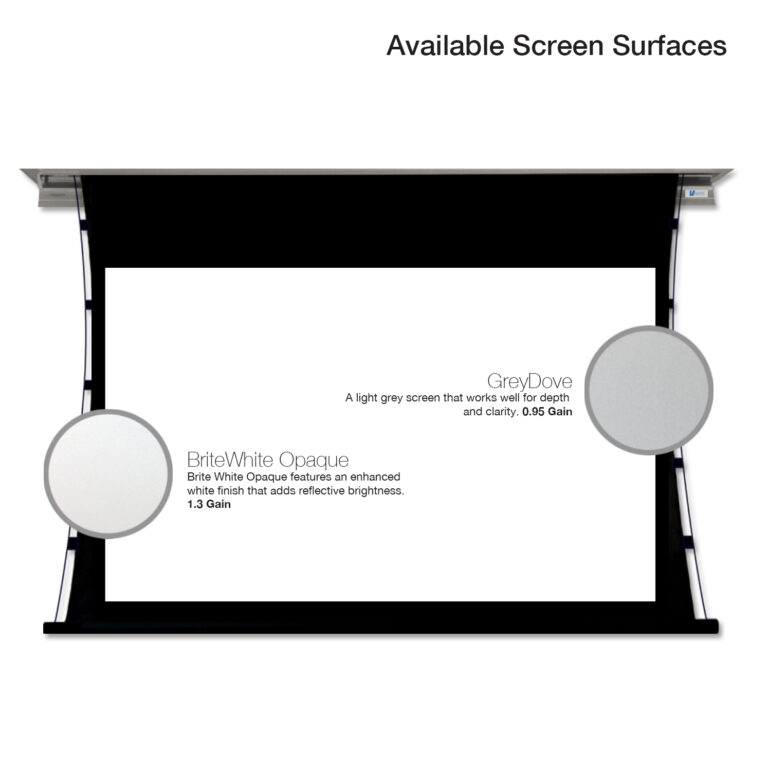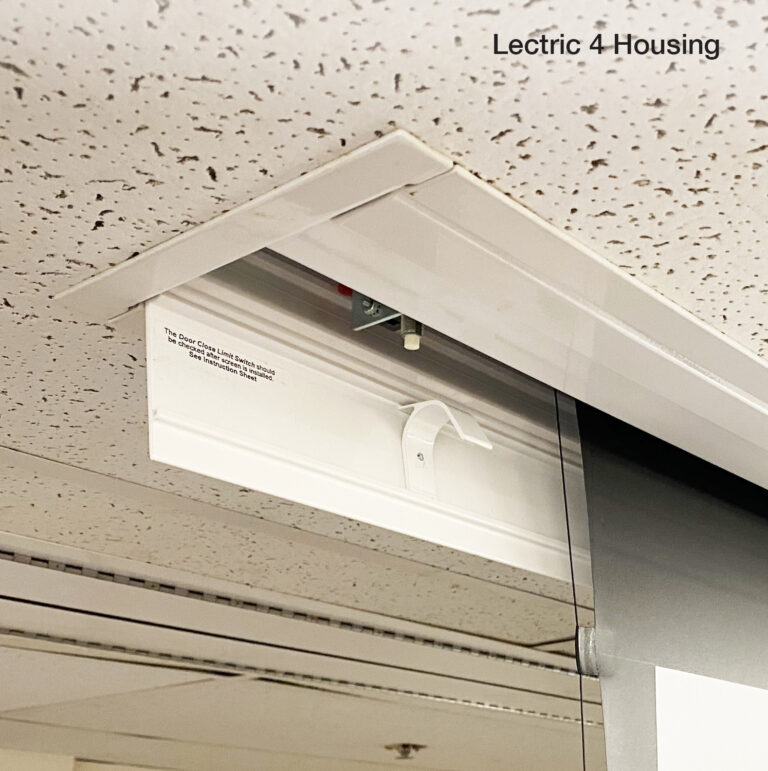 Projected Image & Frame Features
The Lectric 4X  is made for front projectors projecting on the screen, and has a great wide image view.   The Lectric 4 X trap door provides dust-free surface storage. 
When not in use, the screen rolls up and is concealed in the Plenum rated heavy-duty aluminum housing unit.  The housing unit is made of aluminum and available in black, white or any powder coated custom color. This screen includes a built-in ceiling flange.  The flush mount installation is suitable for air handling spaces.
An acoustical dampening for silent operation DDR™ (Dual Dampening Roller) and the screen also features the ribbed aluminum roller featuring VUTEC's FRS™ (Fabric Relief Step).  The projector screen is operated by a Decora wall switch & 12 Volt Relay.  Other low voltage relays, IR, RF remote controls are also available.
The screens come with a 12″ Leader, additional leaders can be ordered.  The leader is the dark surface that is at the top of the screen, used to position the screen at the right viewing height. Ceiling mounted screens may require more leader. 
1″ side borders.  Tab tensioned screen with a bottom bar.  Tab-tensioned keeps the screen fabric straight and crease-free.
The Lectric 4 X's profile in the ceiling is flush mounted
The image on the Lectric 4 X is clean and clear and will show images in 4K, 8K Ultra HD or higher, depending on the projector's ability.
The Lectric 4 X requires hard-wired installation. It comes with fully assembled. 
This motorized screen will bring you years of viewing enjoyment.  Ideal for all areas, venues, and walls, position it to drop down when you want to enjoy the big screen when watching movies, playing games or live events. 
Lectric 4 X can be learned by automation systems.  Lectric 4 X is a great option when you want a large screen up to 180″ Diagonal.
This item is shipped in a crate, you will need a lift gate or forklift to take it off the delivery truck.  Note this is an additional charge.  
Screen sizes and Aspect Ratios
Available in a range of sizes from
78″ up to 180″ in a 4:3 format or

92″ up to 159″ in a 16:9 format or

94″ up to 163″ in 16:10 format.

115″ up to 153″ in 2.35:1 format.
If you are looking for a 4:3 format, send us an email to request details.
Screen Options
Wall-mounted or ceiling mounted.
Great Screen For
The Lectric 4 X Large Motorized Projector Screen is ideal for Large Home Theatres, Large Family Rooms, Entertainment and Games Rooms as well as Conference Rooms, Training Rooms, Sporting Events and more.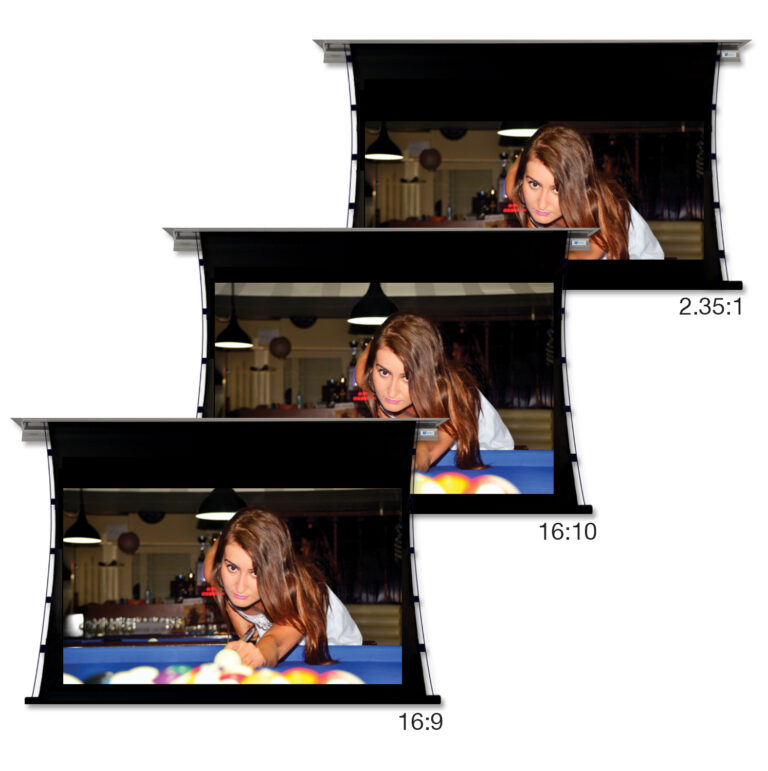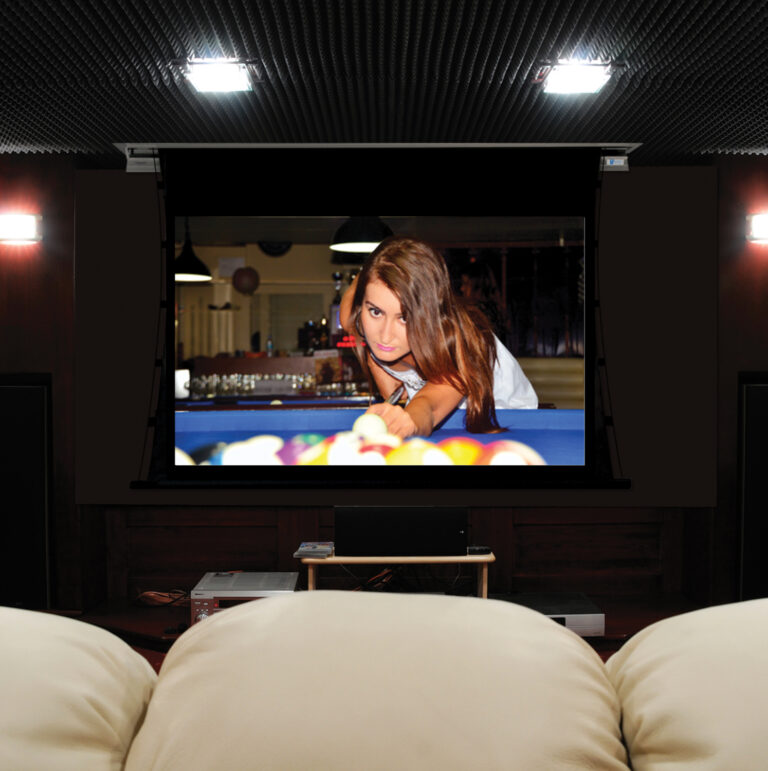 Other Information – Shipping, Quality & Reliability
Free Continental USA Shipping.  This item is crated and requires a liftgate or forklift.
Shipping Policy & Terms & Conditions:  Click to view
Warranty: 1 Year Manufacturer warranty
Installation: Hardwire Install.  Does feature the EMS™ (Easy Mount System) . 
Installation Instructions: Contact sales for information
Made In The USA – Coral Springs, Florida.
When Will This Ship: Your Order Is Custom Made and Ready in 10 – 15 Business Days.  Shipped in a crate.
Buy: Build Your Own Lectric 4 X Projector Screen through our online Screen selector
Want It Professionally Installed? Locate a Dealer Closest To You
Compare Motorized Projector Screens